07/19/2016 11:00 PM Central
Paige Kite
Here is our favorite way to use up ripe bananas, farm-fresh milk, and farm-fresh eggs, too! It's a recipe I adapted from 100 Days of Real Food, and since adding in the einkorn wheat flour and vanilla protein powder, it's truly one of my favorite breakfasts we make! I feel full, satisfied, and not sluggish, all morning! Our family of four usually doubles the recipe and spends two days eating the yummy pancakes for lunch or a snack. Or, freeze leftovers!
Ingredients
2 cups flour (I use Gary's True Grit Einkorn Pancake & Waffle Mix™)
2 teaspoons baking powder
1 ½ teaspoons baking soda
1-2 scoops Pure Protein Complete (Vanilla Spice)™
½ teaspoon salt
1 tablespoon honey
2 large eggs, lightly beaten (free-range, local eggs preferred)
4-6 drops Lemon Vitality™ essential oil
1 tablespoon chia or flax seeds
1 ¾ cups farm-fresh milk
2 tablespoons unsalted butter, melted + butter or unrefined coconut oil for frying
2 ripe bananas, mashed
1 handful spinach (optional) (This recipe makes it east to throw in the leafy greens for the whole family!)
100% pure maple syrup for serving
Instructions
In a large bowl, whisk together the flour, baking powder, baking soda, and salt.
In a blender, mix the milk, honey, eggs, melted butter, bananas, seeds and spinach. (Blend until just mixed.)
Make a well (hole) in the center of the flour mixture and pour in wet mixture. Whisk together thoroughly, but do not over-mix.
Heat a griddle or sauté pan over medium­-high heat. Swirl enough butter (or coconut oil) around the pan until it is well coated. Add pancake batter using a soup ladle.
When the pancakes have begun to turn brown on the bottom, flip them over to cook the other side.
Serve with warm maple syrup and a side of fruit.
Enjoy!
About Einkorn Flour
My recipe contains Einkorn wheat flour which is much easier to digest, therefore allowing for better nutrient absorption! I don't know about you, but I need all the nutrients to absorb possible I can get!
The history of wheat is rather fascinating! The greater processing of the wheat most of us are accustomed to makes it harder to digest. True "celiac" disease is still a very real concern with any wheat; however, many "gluten sensitive" consumers find Einkorn wheat that has been grown organically and sustainably to be much more tolerable to their digestion and a healthy part of their nutrition.
About Pure Protein Complete™ (Vanilla Spice)
I love Pure Protein Complete™ to help our family get healthy protein into our diet! It's so versatile! It is a comprehensive protein supplement that combines a proprietary 5-protein blend, amino acids, and ancient peat and apple extract to deliver 25 grams of protein per serving. Its foundation of protein from whey, goat's milk, peas, egg whites, and organic hemp seed provides a full range of amino acids, including D-aspartic acid, threonine, L-serine, glutamic acid, glycine, alanine, valine, methionine, isoleucine, leucine, tyrosine, phenylalanine, lysine, histidine, arginine, proline, hydroxyproline, cystine, tryptophan, and cysteine, along with a proprietary enzyme blend. Ancient peat and apple extract, along with a powerful B-vitamin blend, complete the formula. Together they support ATP production, the energy currency of the body. This innovative formula makes Pure Protein Complete the perfect option for those looking for a high protein supplement that features a full range of amino acids.
Primary Benefits
Excellent source of protein (25 grams)
Provides a balance of amino acids
Supports ATP production*
Protein metabolism support
No trans fat
rBGH-free whey
Soy-free
About Lemon Vitality™ Essential Oil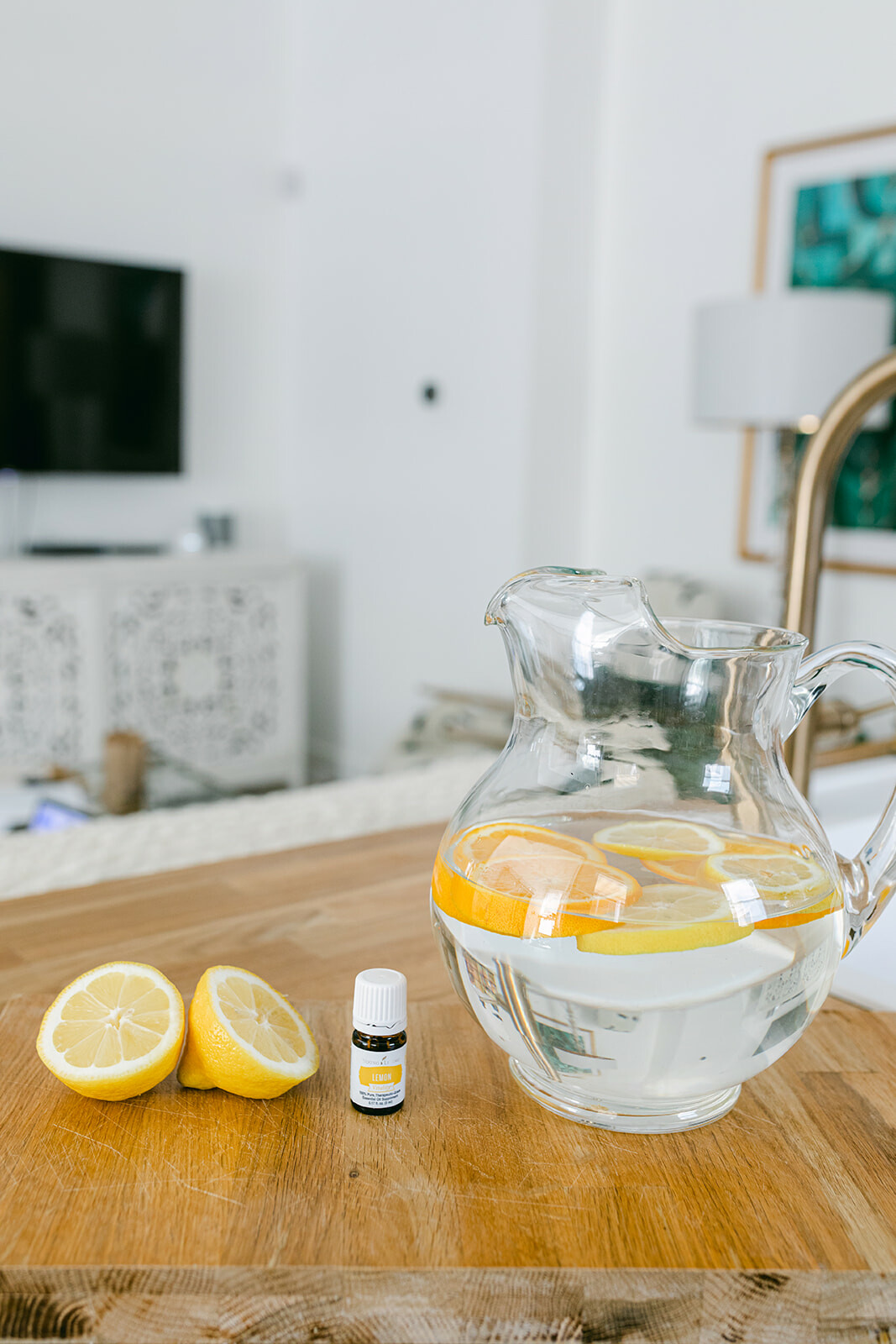 Lemon Vitality™ essential oil includes the naturally occurring constituent limonene. Go research that, right after you finish reading this page! :)
Pressed from the fresh rinds of the fruit, Lemon Vitality is a delicious essential oil that has that wonderfully nostalgic taste and smell of lemon drop candy. It's a great substitute in any recipe calling for fresh lemon juice, rind, or flavoring—without all the hassle of zesting, grating, or juicing. It's even good in baking such as shortbread cookies, jams, or even in a glass of ice-cold water.
Statements have not been evaluated by the Food and Drug Administration. Information that is provided is not intended to diagnose, treat, cure or prevent disease.
essential oils, pancakes, recipes, breakfast,
Jan 9, 2021 09:53 PM Central
Paige Kite
I made some delicious einkorn flour cookies for a holiday cookie exchange party that I had to share with you!
Why Einkorn?
Einkorn grain has grown alongside human civilization since ancient times. Untouched by hybridization, einkorn contains only 14 chromosomes—a huge difference from the 42 chromosomes contained in modern hybridized wheat. This superior ancient grain also contains less gluten than modern whole wheat and is more abundant in many vitamins and minerals. Many people with gluten sensitivities don't have the same symptoms when they switch to Einkorn flour products.
Ingredients
1 cup Gary's True Grit Einkorn Flour by Young Living
1 tsp aluminum free baking powder
1/2 tsp baking soda
1 tsp ground cinnamon (organic)
1 stick of Kerrygold butter (softened)
1/4 cup sugar
1/4 cup light brown sugar
1.5 tsp vanilla extract (organic or homemade)
1 free-range egg (room temperature)
1/4-1/2 cup applesauce (organic)
5 drops Orange Vitality essential oil by Young Living
1.5 cups old fashioned rolled oats
1/2 cup chocolate chips (we love Enjoy Life)
1/4 cup organic dried wolfberries by Young Living
1/4 cup raisins
Instructions
Preheat oven to 350 degrees. Place 2 silicone baking mats onto baking sheets.
In a small bowl, whisk together flour, baking powder, baking soda and ground cinnamon. In a separate larger bowl, cream together butter, white sugar, brown sugar, vanilla extract, egg, applesauce, and Orange essential oil with an electric hand mixer. Add in the dry ingredient mix from the other bowl and mix until combined. Don't over mix. By hand, stir in the rolled oats. Once combined, fold in the chocolate chips, wolfberries and raisins.
Using a 2 tablespoon cookie scoop, scoop cookie dough onto the silicone mat. Slightly flatten the dough. The cookie dough will not be able to roll with your hands. Place 12 slightly flatten dough balls onto each cookie sheet.
Bake for 10-11 minutes until lightly browned. Allow cookies to cool on baking sheet for 10 minutes. Transfer to wire rack to cool completely.
Some modifications have been made to the original recipe found at eohealthyliving.blogspot.com.
Statements have not been evaluated by the Food and Drug Administration. Information that is provided is not intended to diagnose, treat, cure or prevent disease.